Moto : The Akira Bike (Kaneda's bike from the anime Akira)
About
Information about these bikes is VERY scarce. Every piece of information that I have about these bikes is contained on this page, so please don't send me email asking for more info (I say this because I have already received hundreds of such letters).
This page is here for the sake of all you anime-kids, "big red" luvas, and unique motorcycle enthusiasts everywhere.
Please feel free to send any additional information you have to me; it will be greatly appreciated. I will eventually post any new info that I get to this page.
90% of this page is from contributions by other people; I blatantly copy and paste other peoples words and phrases. I was keeping track of who contributed what, but in a classic un-saved file fiasco I lost it all. I would specifically like to thank Michael "Meehow" Budzianowski, Bill, abelugo79, KenedaRO3, Patrick Signorino, Carlo Bocchio, and especially thank Ronnie "Raptor" Marion, Jr, who contributed most of the textual information for this page. If you have contributed to this page and are not given credit please let me know...
Please feel free to link to this page or steal any of these images - I did! ;)
Thanks,
--Meico
Background
The Japanese artist Katsuhiro Otomo created the original design for this now realworld (apparently) motorcycle in his comic book series Akira. Many people have seen images of the bike in the animated movie adaptation of that comic. The bike in the comic and movie was an electric vehicle and was ridden by the character Kaneda. The movie mentions that the bike features: "ceramic, double-rotor two-wheel drive, computer-controlled anti-lock brakes, 12,000 rpms", and that it may be okay for you to "lower the rev below 5,000 while changing gears"...
For much more comprehensive Akira information, you can go to http://www.bbakira.co.uk/.
Replicas
These are all one of a kind hand built models or machines. I don't know how much any of these cost to build.
White House's replica
This [above and below] is the "official" AKIRA motorcycle. It is probably the most highly accurate. It was made by WhiteHouse, a Japanese custom motorcycle shop. Sorry, I haven't gotten around to translating the text in the images yet. All the information that they have is located here, but go ahead an paruse their site at http://www.whouse-jp.com/. They also have several other specialized bikes. It was built on order from Streamline Pictures/Kodansha, all the folks on the AKIRA Committee, as a promo for the film's opening in theatres way back in the summer of 1988. It's THAT OLD. Now Manga Entertainment owns it, due to Streamline being bought out by Orion Pictures, then belly-flopping.
The bike is (sadly) just a prop, as shown by the B&W pics of the frame and fiberglass shell ("FACTORY CATCH-UP!"). Turns out the only parts that actually work are the headlight, dash monitor (which appears to have a VCR?!), and speedometer, which gauges voltage, battery power and speed. The frame does roll, however. From these pictures it's unclear if the bike can be steered, but I'm pretty sure it does.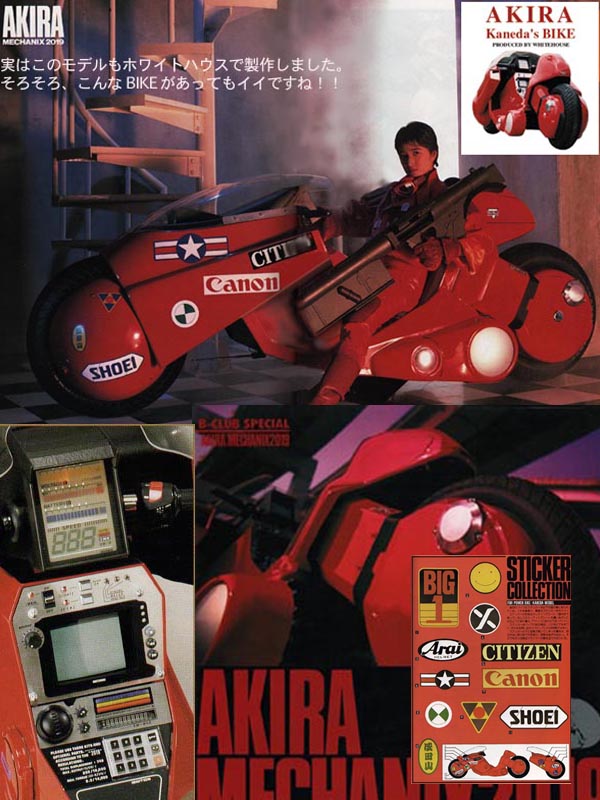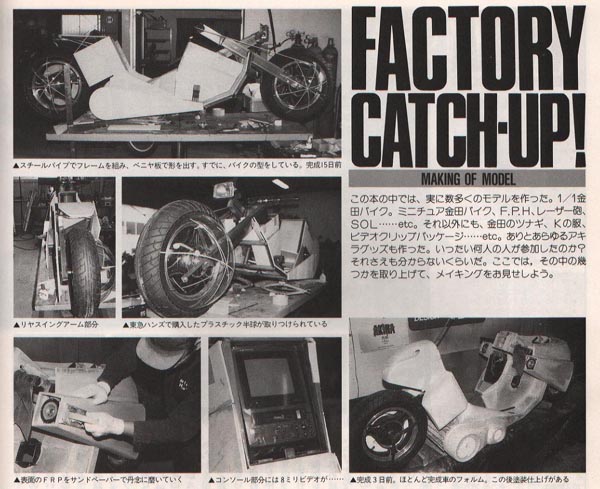 Manga's replica
The one [below] that's surrounded by akira stuff is owned by MANGA. The picture was taken at an anime convention, I'm not sure where. Manga displays it as part of their promotion. The fellow who took the picture said it didn't look so good...
It's hard to tell, but this is the same bike as above, but with the stickers changed for legal reasons, such as "WHITEHOUSE" which is the name of the japanese bike-modifications company that built it... In order to see that the two bike pics are in fact the same bike look carefully at that convention pic and the one with the live-action "Kaneda" sitting there. The circular sticker (which is SUPPOSED to say "BMW") is in the same spot on both photos... I guess Manga didn't want to remove that one.

Chris Hayes' replica
This [below] is Chris Hayes 1/3 scale non-working replica of the "Power Bike from AKIRA", as he calls it. He constructed and photographed the bike for the purpose of being used in a theoretical promotion campaign of "AKIRA" the CDROM game. The page on Chris's bike at //www.herts.ac.uk/artdes/exhibition/2dnmodel/hayes.html seems to no longer exist. Even when it did exist there were no email links on that page...
Toys and models
McFarlane Toys' has their own toy rendition of the bike. Unfortunately there is much wrong with it... The geometry is definitely not quite right - it appears to be shorter and not as sleek looking as the original. Also, the stickers are all changed - again probably for legal reasons - so the logos of "CANON", "CITIZEN", "SHOEI", "BMW", "ARAI HELMETS" are not present. Even worse though the stickers that are present are completely symmetrical. In the comic and the movie there were different decals on opposite sides of the bike's front cowling. The Airforce sticker is present but it is upside down.
Japanese magazines
There was an art book named "AKIRA Club" a while back showcasing the art of Katsuhiro Otomo. More specifically, his AKIRA stuff, and AKIRA-related stuff. It's kinda hard to find anymore, as are all Otomo's books. In this book there were a few VERY small pictures of the real Bike, including the one pictured at the top of the page. Pictured were shots of the "cockpit/dashboard" in front of the seat, complete with all the buttons and screens and LED readouts seen so briefly in the film; there was a really close-up shot of the windshield (so close you could see the rivets that bolted the plexiglass into place, even though these are still VERY small pics) along with the magazine it was in, a Popular Mechanics. I regret to say I don't know what the date of this magazine was, but it was definitely somewhere after July 16th, 1988.
The bike appears to also have been featured in an article in a Cantonese anime magazine, possibly called A-Club, which featured a full scale replica. This could have been the same Manga bike from the pictures above.
Real bikes
Akira Inspired
This bike [below], while not a true replica is a functioning vehicle and was apparently inspired by the Akira Bike.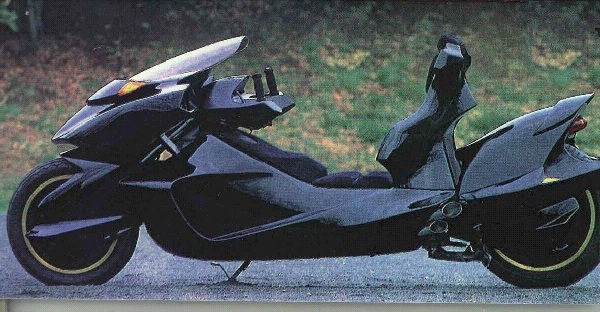 Other bikes like this
If you want to see other bikes that look like Kanedas from Akira go to any search engine and look up feet forwards or ff motorcycles.
Making one?
It may be possible to build a true replica with the frame from the Alligator... http://www.allamericanracers.com/. It's actually pretty ugly, and the forks need to be more "chopperish", you'd also have to build the bodywork, not to mention that the engine position is all wrong, but the most important thing is that the frame geometry seems almost identical.
Rumors
Highly suspicious rumors have it that there are currently at least three working replicas; all with different bodies and powerplants. Other rumors even suggest that somewhere there is a a now fully working electric bike, with a carbon-fibre body, and matching kaneda's bike right down to the stickers and curves.